As part of my desire to be a better writer, I am consuming books at a rapid rate. I'm doing it mostly by listening. I have a window of about 2-3 hours per day that I can use my eyes or reading/writing due to a post-stem cell transplant worsening of dry eyes. I use that window for writing. My "reading" time is via listening to books. The Washington State Library has been a godsend. I can listen to books as I do any mindless tasks, like cleaning inside the house or painting the outside, kayaking, hiking, and most commonalty, when I'm laying awake at night. This way I can finish 1-2 books per week. This week, I found a new gem of novels. I will tell you about it in a minute.
I do read novels for the entertainment, but most of all, I do to observe how others do it. I am driven to be the best writer I can be and to do so, I must observe the gifted. Some do it well. Others, not so much. In this strange world we live in, some of the most lucrative writers are some of the worst. But they are great in business and self-promotion. Some of the best novels are obscure.
In Praise of The Echo Maker
After spending a few weeks with mediocrity, I returned this week to novels with quality. I started with Hemingway's collection of short stories. I had read most of them before, some many times. However, Hemingway offers an oasis from the humdrum. His writing is simple and pure. There are writers who write more poetically . . . but none more rhapsodic. There is a rhythm to his writing that reflects his training in music before becoming a writer.
I also feel somewhat of a spiritual connection to him. I guess all readers do so with the authors that they read. When I'm an author I feel a spiritual connection with the characters I create, and the readers who embrace them. But my spiritual relationship with Hemingway stems from me living for a short while on a small lake, Waloon Lake, near Petoskey, Michigan (the town where our previous music director of my church is also from). A house on that lake called Windemere, was Hemingway's boyhood vacation home.
That's not why we lived there. We lived there out of the generosity of a friend who loaned us their vacation home while we were waiting to move to Egypt in 1988. Actually, it is hard to believe, one of our neighbors on the lake pointed out Windemere to me. It was just down the shore from our house. I was unimpressed at the time. But I was a narrowed minded person then, not reading anything that wasn't written by an evangelical. Sad.
Hemingway also lost his soul (his words not mine) where I used to work, Mayo Clinic, Rochester, Minnesota. He was being treated there for depression (in 1961, way before my stint there) and they used ECT (shock therapy), which damaged his memory and creative mind. Because of those side effects he went home and shot himself in the head at his cabin in Ketchum, Idaho. He did so because he knew he could no longer write. I understand.
After spending a couple of weeks back with my friend Ernest, I did a search only for books which were finalist for a Pulitzer Prize. I had found several great books this way. This time my search did not disappointment me. I am now in the middle of The Echo Maker by Richard Powers.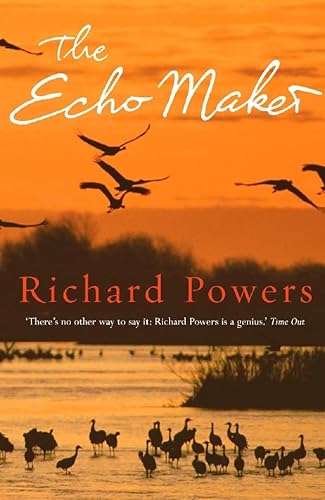 To me, the writing in The Echo Maker is super-human. I am constantly asking, "How does he do it? How does he write such rich dialog? How does he weave such an interesting tale?" I look at his reviews and not all of them are positive. What were those reviewers thinking? It is now at 65,000th on the best-seller list as its time in the lime light has past.
My Journey to Better Writing
I have no clue if I can write well. I started down this course of writing way back in the 1980s. I wrote 30 magazine articles and got a lot of praise for them. I started writing books and I had praise for my work. But were they sincere? I don't really know. Maybe I'm like the person who thinks they can sing and performs at every open mic, but can't carry a tune. But I keep trying to improve and to learn from the masters.
Ristretto Rain
I think the life of Ristretto Rain is drawing to a close. It is typical that a book best sales are with the release. When the chosen audience, in this case people I know, is saturated, the sales fall like a brick. I am profoundly grateful for those who bought it. Please share it. While Ristretto Rain was # 13,000 on the best selling list at its peak (which sounds unimpressive, but for a no-name author with an independent publisher, that's pretty good) but has suddenly reached the 1 millionth mark this week . . . the dead zone. I'm trying to get reviews by major papers, but I won't hold my breath. If I do, and if they are decent, it would breath new life into Halem and Winston (two main characters).
I will not have the count of sales for several months but I think it is around 500. I am happy with that and considering that it is via word of mouth advertising. I am considering releasing Ristretto Rain as an audio book, but that takes some more investment of time and money.
Ristretto Rain was a very difficult book to write for a couple of reasons. First of all, I wrote most of it before I was sick. Then it was lost for a year (during which I was too sick to write much, except I did write Christina Athena during that time). Then, when I found it, it was in pieces. I had to sew the pieces back together and finish the story. Then the book was huge, almost double the published size. The original had several more characters and a more protracted ending. The original has more resolution. But in the world of publishing today, if your book is over 120,000 words, you can't sell it because it will cost more, ($17-19). No one will buy a book a that price from an unknown author, except for maybe his or her mother. I am considering writing a sequel to bring back the characters I had to delete and to tidy a few things up.
Retribution
I'm working on chapter twenty-six of my latest book Retribution and it will have two more. I can finish the rough draft in a week. Then I start the long, hard process of editing and re-writes with a new editor. That will take a couple of months. I want to do my very best with it, even better than Ristretto Rain, so I would have a shot at getting an agent, who could sell it to a major publisher. With each book, I try to improve over the previous one. So I will get to live in a refugee camp in Yemen, (in my mind), for a while. I like that. But my commitment to my readers is that I will do my best to make it worth reading. But in the meantime, if you like a well-written book and don't expect an unrealistic narrative (like most best sellers in the US), you will love The Echo Maker.
Mike