CANCER MONITORING LABS: I said, a week ago, that I would do an update on Wednesday March 20th about a lab test that would tell if my chemo is working to suppress my cancer. Well, I have no news and it is now Monday. It is disheartening, but I've had another week of chaos in my care plan.
I went to the lab last Monday (March 18th) to get those very important labs done. I challenged the lab tech when he had only a tube for a blood count and a tube for basic chemistry and no tube for the protein electrophoresis and or, the very important test that counts how much cancer I have, called the IgG Lambda light chain protein (the bad one). The tech assured me he had it right. Well, he didn't.
I had to go back to oncology to get my labs straightened out. They sent me back to the lab on Wednesday, March 20th, for another draw. Once again it didn't look right. It wasn't (we don't think as it is still not clear). He did the general protein electrophoresis that time, but so far, there as been no result on the IgG Lambda light chain protein and we are guessing it was not done.
Tomorrow I meet with the oncologist to go over these tests and to design chemotherapy around my response. But now (unless the results come in late tonight) we are in the dark. Those labs would have told me if I'm living or dying.
The Yellow in the photo is my bad guys. Normally they do good things, but when their level is in the thousands, rather than less than twenty-four, it takes out the kidneys and your life.
CHEMO ROUND 3: Today I started my third-3-week round of chemo after taking a week off. The orders for the chemo also did not go through and I had to scramble toward the end of last week to set those up or I would have missed a whole round. This is all frustrating as I fighting for my life here. But I will give them the benefit of the doubt about getting use to a new electronic order software and the staff who are overwhelmed.
I started out as a star patient with virtually no side effects from chemo during my first two rounds. But the last round has been brutal. Even though I had a week off, the side effects never cleared. I will see how this present round goes, but I have some concerns that it will not be any better as it is the same protocol.
So, this was meant to be short, I will post about my labs and how well my cancer is being treated, as soon as I have those.
My Brother Gary: My brother came down with a bone marrow cancer just before I did (somewhat different). He was a few steps ahead of me. He was scheduled for a stem-cell transplant (what I'm waiting for). He has become seriously sick with a serious infection and is fighting for his life tonight. I can't travel to see him due to my chemotherapy and dialysis. It has been a hellish year for my family. Loosing my mother in July. Then my brother got sick. He called me to be a stem-cell donor for him, then the next week I'm diagnosed with bone marrow cancer.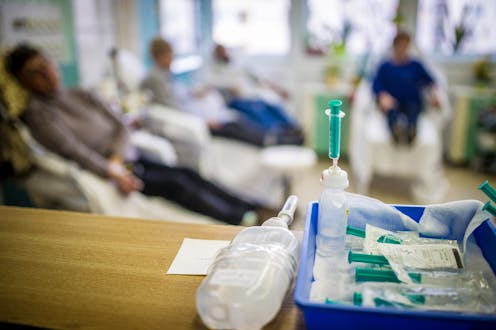 KIDNEYS: Nothing new. Keep praying! Still on dialysis.
THE FUTURE CURE: Some day there will a cure for Multiple Myeloma. There are none now. When this cure comes, it most likely will be in the form of new therapies called CAR-T or BiTEs. I am fighting to live long enough to partake of the cure. These treatments use your own immune system to go after the cancer as if were a bacteria or virus. Next Tuesday (April 2nd) morning, the 2019 update on these therapies will be discussed in an online medical conference.  I am posting this here for my family (who may be interested). You can sign up to be part of that here: https://event.webcasts.com/starthere.jsp?ei=1233305&tp_key=298299e0d1
Mike, still fighting at base camp.